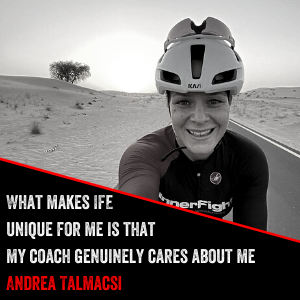 Sporting background, what inspired you to take up endurance sport?
I used to be a disc thrower in my junior years, and tried anything that wouldn't require much of running. In 2019, I signed up for a half marathon as a challenge and enjoyed the training process so much that I decided it was time to pursue one of my bucket list items - an Ironman.

Goals, struggles, successes
My initial goal was to complete an Ironman and it came with its own struggles such as learning to cycle and being able to swim more than 500m. The success came with every single training - being just a little bit fitter, faster and stronger every day. I completed an IM140.7 just 7 months after starting my triathlon training, along with three IM70.3 within my first year, including the World Champs in Nice, France. And there is more to come.

Training environment and locations
I train in Dubai, half of the time with the IFE group, half of the time alone, to fit training with my work schedule and private life. I once trained in the US for a full month and while my training went on unchanged, I definitely missed having the team and coaches around. There is nothing better than finishing a hard session together and see people high-fiving and smiling at each other. IFE is the kind of community that brings the best out of you.

Learnings from Innerfight
The learnings from InnerFight go beyond the gym, pool and the track field. The things I've learnt and experienced during my one year with InnerFight had a fundamental change on my life. I became more effective with my time, I gained more strength and confidence, and I met people who teach me something new every day. Most importantly, I realised the importance of doing something I truly enjoy, no matter what.

The training
The training is genius. Everything is programmed based on my individual goal and performance. As I can clearly see progress and improvement, I have full trust in my coach which motivates me even more to deliver what's planned in TrainingPeaks. What makes IFE unique for me is that my coach genuinely cares about me, and he makes sure I am prepared both physically and mentally for the challenge to come.